The American Civil Liberties Union of Arizona today expressed its deep sorrow over the death of ACLU of Arizona co-founder Alice Bendheim, who died Saturday evening.  Bendheim, who turned 90 years old on August 9th, became of a member of the ACLU in Arizona in 1954 – even before the ACLU of Arizona was officially recognized as an affiliate of the nationwide organization. She was instrumental in convening a group of civil libertarians from Tucson and Phoenix to pro-actively become an affiliate of the National ACLU in 1959.
Bendheim was a respected and outspoken leader within the nationwide ACLU organization, as well as the local ACLU of Arizona affiliate. She served as President, Secretary and Treasurer of the ACLU of Arizona Board of Directors, becoming the longest serving member of the ACLU of Arizona Board of Directors from 1959 through 2018. She also served on the National ACLU Board and went on to serve on the National ACLU Advisory Council.
"Alice Bendheim was straight out of central casting as a proud, card-carrying member of the ACLU," said National ACLU Executive Director Anthony Romero. "Her remarkable contributions to the National Board, where Alice served as a Vice President, spanned more than three decades and covered the waterfront of ACLU issues – drug decriminalization, data collection and privacy, legal protections for journalists and researchers, as well as numerous other board committees on internal governance issues. We will miss Alice's passion for liberty, as well as her stalwart support for the ACLU."
In November 2019, Bendheim was presented with the Civil Libertarian of the Year Award at an ACLU of Arizona dinner commemorating the group's 60th anniversary.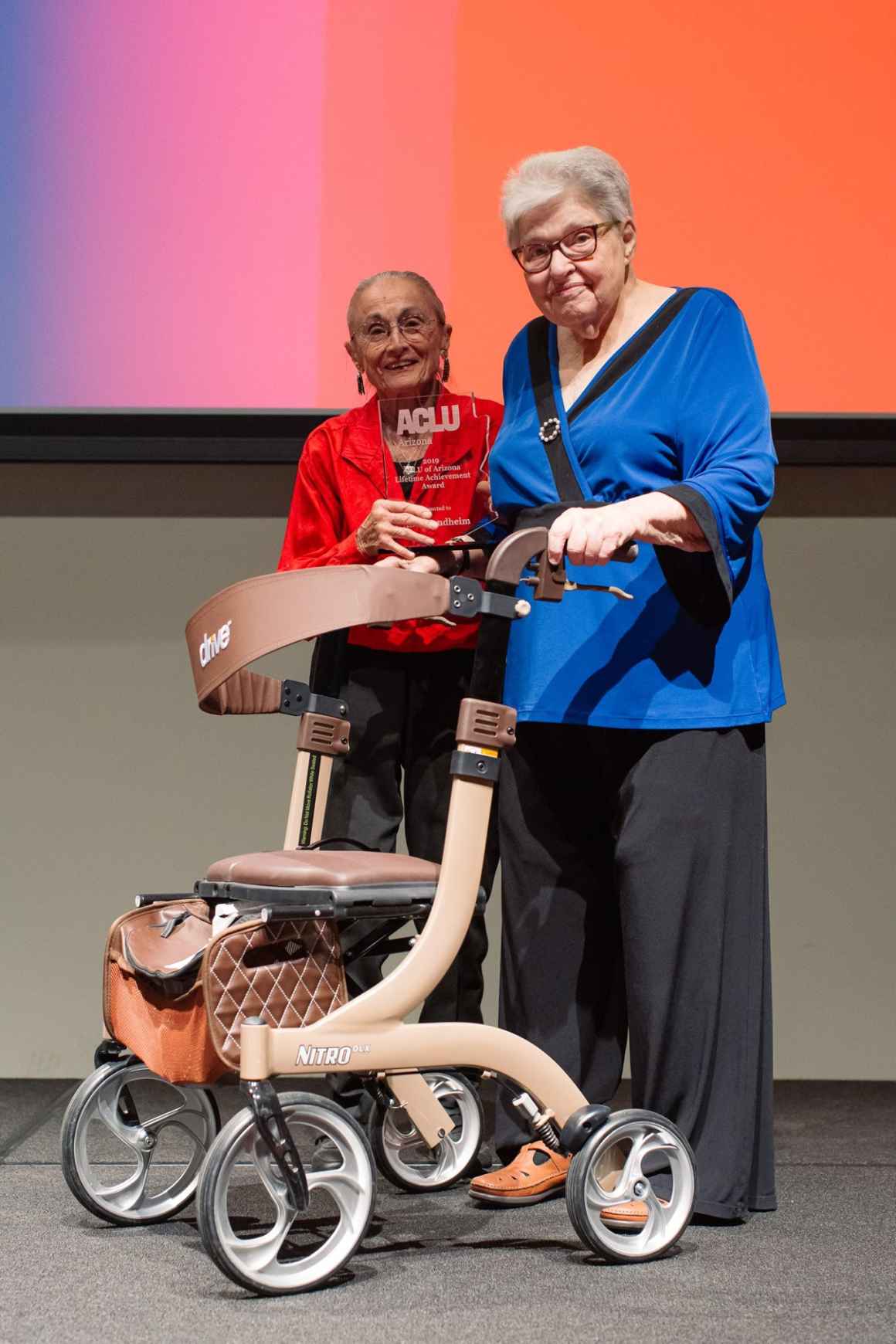 "Alice was my mentor whose deep understanding of the essence of the ACLU and commitment to its principles never wavered" said Rivko Knox, a long-time friend who served with Bendheim on the ACLU of Arizona Board and who presented her with the award in November.  "Although it is very difficult for me to think of the ACLU of Arizona without Alice, I know that she was very proud of the current organization, its very talented, diverse and young staff and its ability to continue to defend civil liberties during this very challenging period in our history as a nation. Alice risked so much to defend the ACLU.  She lost her job, faced harsh criticism in the media and sometimes even within the organization and I hope that her example and memory will encourage more of us to speak out forcefully and remain committed to ensuring that the ACLU remains strong.  That is the best memorial to Alice that she would want."
"We are deeply saddened by Alice Bendheim's death," added Alessandra Navidad, Executive Director of the ACLU of Arizona. "She was a much-loved member of the ACLU family across the country, and highly respected for her remarkable intellect, knowledge of civil liberties cases and staunch commitment to the Bill of Rights.  She was a feisty advocate who had no qualms about speaking her mind, and she was usually right as a matter of law and right when it came to defending our principles.  She had a huge heart and was a caring friend, mentor and trusted advisor to me on everything ACLU or non-ACLU in my life."
Throughout her years as an ACLU of Arizona advocate, Bendheim was a steadfast supporter of not only her free speech rights, but also defended the speech rights of her opponents, no matter how unpopular their speech. 
During the early 1960s, the federal government organized a formal committee, the U.S. House Un-American Activities Committee, to investigate suspected communists. Professors, teachers, journalists, writers, filmmakers, and activists all came under deep scrutiny. Alice stood up at a public meeting in Phoenix at that time to condemn the committee's investigations and explain why the ACLU opposed the committee's efforts to investigate people based on their political affiliations, believing people had a First Amendment right to freedom of association. She was later forced to resign as a public-school teacher because of her public statement defending the ACLU. Although she was able to get another job as a schoolteacher, she eventually decided to leave the teaching profession and become a lawyer.  She attended law school at Arizona State University in the 1970s.   
"She was an outsized presence at the law school both because of her maturity and her well-developed views and intellectual curiosity," said Steve Lee, who was Bendheim's professor in law school and who went on to serve with her on the ACLU of Arizona Board of Directors. 
After graduating from law school, Bendheim opened a solo practice focusing on family law, which allowed her to take on pro bono cases on behalf of the ACLU of Arizona. 
She was part of the legal team in Arizona that brought the Casey v. Lewis case, which was a long-standing lawsuit against the Arizona Department of Corrections challenging inhumane conditions of confinement in the statewide prison system.
In addition to free speech issues, Bendheim also care deeply about separation of church and state, religious freedom, and abolition of the death penalty. 
"I support the ACLU because it is the only national organization that supports the protections of the Bill of Rights for all of us, in a completely non-partisan manner," Bendheim once said. "In particular, the First Amendment protections are vital because without free speech, advocacy regarding all other issues such as immigration, police conduct, due process, could be stifled.  For nearly a century the ACLU has stood as the most effective guardian of our rights."
Dale Baich, President of the ACLU of Arizona, added: "Alice was a civil liberties giant. She was an inspiration to generations of Arizonans who watched her stand up to the government when it tried to limit our civil liberties. Her grit and determination will be sorely missed."
Bendheim not only supported the ACLU's principles, but also worked tirelessly to benefit the organization. She frequently volunteered to speak to students about the Bill of Rights and organized countless fundraising events and volunteer activities throughout her years on the Board.
###